THE SANGGUNIANG PANLUNGSOD MEMBERS (2022-2025)
CITY VICE MAYOR JAN MARIONNE RAMIREZ FONTELERA
Coming from an illustrious line of public servants well-known for their prompt action and delivery of quality service, City Vice Mayor Jan Marionne R. Fontelera is a former seminarian, who went on to graduate with a Bachelor of Science in Nursing degree from the Far Eastern University. He is pursuing a Master's degree in Public Administration, which now complements his career in public service.

His humble beginnings in government dates back to his first work as a Job Order under the City Information Office circa 2010. In his search for his niche, he ran for public office and was elected as city councilor in 2013, where he called upon his knowledge and training in health services to pen legislations that promote the welfare of women and children. In 2017, he was appointed by former City Mayor Arthur F. Celeste as one of his executive assistants in charge of matters on sports development, health and sanitation.

His socio-civic engagement is highlighted by his active membership in the JCI Hundred Islands, where he served as President in 2017. Under his leadership, the organization was awarded the Platinum Seal of Excellence, ranking 13th best JCI local organization all over the Philippines.

During the May 2022 elections, he was the resounding choice of Alaminians when he was elected City Vice Mayor for the term 2022-2025—making his family proud that he is continuing the legacy of the Action Man, former Mayor Dong Fontelera, and building on the efforts of his father, Councilor Jojo Fontelera. He is currently a Board of Director of the Vice Mayor's League of the Philippines – Pangasinan Chapter, and the auditor of VMLP Region 1.

For someone so young, he wears a lot of hats: an entrepreneur, a bike enthusiast, a protective brother, a loving husband to Xyranne, a nurturing father to Primo, a dedicated public servant to the City of Alaminos.

COUNCILOR MICHELLE SISON SEGUNDERA
Presiding Officer Pro-Tempore
Committee on Health and Sanitation, Education and Public Information Committee on Laws, Rules, Procedures and Ordinances, Ethics and Accountability and Human Rights

City Councilor Michelle S. Segundera ranked number 1 in the May 2022 National and Local Elections. The eldest child of former Pangasinan Board Member Antonio F. Sison and former Alaminos Municipal Councilor Bernadette T. Sison. She is married to Atty. Napoleon F. Segundera, Jr., the General Manager of Alaminos City Water District. They are blessed with two children—Joaquin Dominic and Sophia Mikaela.

She graduated from the University of Santo Tomas with a Bachelor of Arts degree Major in Behavioral Science, and then took up her post-graduate studies in law in the same university. She did a stint as property manager at the country's premier land developer, Megaworld Corporation, where she earned numerous awards for leadership and outstanding performance.

First elected as city councilor in 2019, she is currently serving her second term in office. Before this, she served as the Executive Assistant V at the office of the City Mayor in 2017 under then City Mayor, now Congressman, Arthur F. Celeste.

Councilor Mitch, as she is popularly known, believes that a positive outlook in life is the result of a God-centered and active lifestyle. She is a fitness enthusiast and an accomplished triathlete, participating in local and international triathlon events all over the Philippines.
COUNCILOR CAROLYN DIZON SISON
Majority Floor Leader

Committee on Tourism, Culture and Arts, Children, Family and Social Welfare, Women, Persons with Disabilities, and Senior Citizens

Councilor Carolyn Dizon-Sison is a seasoned legislator, having served for five terms in the past, with this term 2022-2025 as her sixth. She holds the position of Majority Floor Leader for the city council, and just recently, she was elected unopposed as Regional Chairperson of the Philippine Councilors League (PCL) Region 1. Over the course of her career as a councilor, she has been a three-time Vice President of PCL Pangasinan and two-time Vice Chairperson of PCL Regional Chapter, owing to her sterling credentials and humble achievements.

In her 15 years of dedicated and committed service, she has initiated laudable programs that include the Department of Foreign Affairs (DFA) Mobile Passport Service, Local and Overseas Job Fairs, One-Stop-Shop Health and Wellness, Medical and Dental Mission, VAWC Integration, Maternal Care, Reproductive Health and Cancer Service, including Information Seminars and Online Business Name Registration. She also continues to provide scholarships grants to bright and deserving Alaminian students, and she supports the singing competition as well as other capability trainings for various sectors.

For her noble initiatives, advocacies and valuable contributions for the betterment of her citymates and in helping create positive change in our society, she was named one of the 2012 Ten Outstanding Councilors of the Philippines (TOCP) by the Philippine Councilors League. She was also recognized as one of the JCI Philippines Most Outstanding Chapter Presidents in 2010 and Most Outstanding Alumna (Public Service) of Dominican School in 2012.

A graduate of Bachelor of Science in Commerce Major in Accounting at the University of Santo Tomas, Councilor Carol continues to serve with good intentions and genuine passion.
COUNCILOR ARTHUR CAASI CELESTE, JR.
Committee on Agriculture, Aquatic and Natural Resources, Livelihood and Cooperatives

Oversight Committee

Councilor Arthur C. Celeste, Jr. is a new legislator, youthful and passionate, bringing his own brand of public service to the Sangguniang Panlungsod. He is the youngest of four siblings who grew up within the backdrop of humble and sincere service to the people as espoused by their father, recognized statesman, Arthur F. Celeste. A proud graduate of a Bachelor of Science degree in Hotel, Restaurant and International Management from the De La Salle College of St. Benilde, he served as Executive Assistant V under the City Mayor's Office from 2020 to 2022.

Councilor JunJun has earned hearts and respect of the people with his pleasant and cheerful personality and his genuinely down-to-earth approach to public service. He openly advocates for voluntary charitable acts of kindness and he himself is a regular blood donor which secured him a seat in the Board of Directors of Philippine Red Cross – Alaminos City Chapter.

His enthusiasm and dedication as a young legislator are so easily discernible among his peers, such that he was elected as the President of the Philippine Councilors League – Pangasinan Chapter, and he now sits at the Sangguniang Panlalawigan as Provincial Board Member.
COUNCILOR APPLE JOY BACAY-TOLENTINO
Committee on Environmental Protection, Market and Slaughter and Waste Management, Disaster Risk Reduction and Management

Councilor Apple Joy Bacay-Tolentino is the darling of the Sangguniang Panlungsod. A 28-year-old young entrepreneur, she is a graduate of Business Administration major in Financial Management and is pursuing a Law degree from the University of the Cordilleras.

Her passion for public service was nurtured by loving parents—former City Councilor Joseph Bacay and current Provincial Board Member Apolonia Bacay, from whom she learned a sense of fulfillment in serving the people. Before being elected, she was an Executive Assistant for Tourism Affairs under the City Mayor's Office. She is married to a fellow legislator, Municipal Councilor Alvin Tolentino of Burgos, Pangasinan.

Her first introduction to the public eye was during her reign as Miss Hundred Islands 2016. As an ambassadress of goodwill, she strongly advocated for education and love for children, as well as tourism promotion. She proudly represented the Philippines in two international pageants: Ms. Great International 2019 held in Japan, where she clinched 4th runner-up, and Ms. Asia Global 2018 held in India, earning for the country the 1st runner-up award.

At a very young age, Councilor Apple Joy has developed her entrepreneurial skills and is now known to be a savvy business owner of some well-known ventures like Apple Joy Boutique and Apple Joy Minimart. She is also a brand ambassador for Skin Manila.
COUNCILOR VERNA SAN DIEGO RABAGO
Assistant Majority Floor Leader

Committee on Peace and Order, Police Matters, Drug Abuse, Anti-Gambling, Public Safety

Councilor Verna San Diego Rabago is on her second term as City Councilor. She was elected as first-time legislator in 2019, but she was not new to public service. She served as a Barangay Kagawad in 2010-2013. Her husband is the current Punong Barangay of Brgy. Poblacion, German U. Rabago—both of them possessing a strong commitment to serve their constituents. They have two daughters, Mariclair Rabago, a graduate of AB History from the University of Santo Tomas, and Aira Nicole Rabago, a pre-med student from De La Salle University.

Konsi Verna, as she is fondly referred to by friends and colleagues, is modest and soft-spoken, a product of the Catholic school, St. Joseph College in Quezon City, where she took up a computer secretarial course. She is also a woman of keen business sense, and has kept a little convenience store running successfully for a long time.

She has been very supportive of public safety and security efforts in the city to help build a secure environment for investors. She has been very active in advocating for such initiatives and has successfully lobbied for legislative measures relative to speed limit, public safety, order and peace, and discipline zone is support of the Philippine National Police. With her initiatives, she hopes that the City of Alaminos would keep progressing toward its vision 2030.
COUNCILOR JOSELITO DE OCAMPO FONTELERA
Committee on Public Works, Infrastructure, Land Utilization, Housing, Planning and Development, Public Utilities and Facilities

Councilor Joselito O. Fontelera is the eldest among five children of former Mayor Eduardo "Dong" Fontelera, dubbed as the action man of then Municipality of Alaminos, and Mrs. Imelda O. Fontelera (deceased). A graduate of Bachelor of Science in Civil Engineering from Saint Louis University in Baguio City, he and his wife, Myrna Ramirez Fontelera, initially put up a family business.

His career in public service started in 2004, when he was elected as City Councilor of the City of Alaminos. He had proven to be a hardworking and dedicated legislator, earning the respect of constituents who reelected him to the City Council for two more terms, thus completing nine years of service in 2013.

Councilor Jojo is known to be humble, down-to-earth and accommodating, easily approached by constituents. His projects reflect his advocacy in providing proper infrastructure in the communities, like solar lights given to every barangay. He pushed for accessible electricity, especially along remote streets to ensure that residents and the commuting public have safe and well-lit roads.

Elected again in 2016, 2019 and 2022, Councilor Jojo is on his third term, his second round of a three-year term as he continues the legacy of the Fonteleras--one that is marked by genuine and honest service to Alaminians.

Concilor Jojo and wife Myrna, are blessed with two children, the current City Vice Mayor Jan Marionne Fontelera and Jan Maurice Fontelera, a freshman in culinary arts in Baguio City.
COUNCILOR RAUL BIELZA BACAY
Committee on Transportation

Councilor Raul B. Bacay was born on June 20, 1976. Married to Marlyn B. Bacay, they are blessed with five children. He completed a trade course from Asia Pacific College in 1996.

He has a long history of public service, starting from his stint as a barangay kagawad of Brgy. Lucap in 2007. He proved to be a strong leader that in 2010, he was elected as Punong Barangay, a position he held up to 2022. He also served as the Liga ng mga Barangay President from 2016 up to his election as City Councilor this 2022.

Through the years that he served as the Liga President and ex-officio member of the Sangguniang Panlungsod, he had ably represented the interest of barangay councils in the City of Alaminos and their constituents. As the Chairperson of the Committee on Barangay Affairs and Transportation, he also lobbied for revision of the city's Traffic Code, among others.

For his first term as City Councilor, he continues to actively advocate for the welfare of the transport sector, while supporting his colleagues to uplift the well-being of constituents.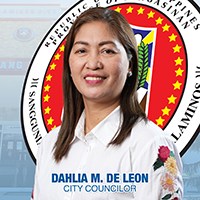 COUNCILOR DAHLIA MALQUERIDO DE LEON
Committee on Labor, Trade, Industry and Commerce, OFW

Councilor Dahlia M. de Leon is married to former City Councilor Rany S. De Leon, who is a businessman in his private life. Blessed with four children—Margarette, Sheena, Ardy and Tamara, the power couple have both shown in their own ways their brand of public service. She is described as a dedicated wife and a loving mother, who has sacrificed for her family and who fully supports her husband in all endeavors.

During her husband's term, she helped him energetically in his career in public service. She wished to continue her husband's advocacy; hence, she was voted to the council in 2019 by virtue of the trust her husband has built as city councilor. She served as Chairperson of the Committee on Labor, Trade, Industry, Commerce and OFW, which she continues to hold for the term 2022-2025.

Councilor Dahlia worked as an overseas Filipino worker (OFW) in different countries like Malaysia, Kingdom of Saudi Arabia, United Arab Emirates, Hong Kong and Taiwan for 11 years. Theirs is a real-life rags-to-riches story and their humble beginnings has blessed them with success. Now, Councilor Dahlia continues to draw from her experiences and brings to the city council her dedication and commitment to help improve the lives of Alaminians.
COUNCILOR OSCAR AREOLA BOLING, SR.
Committee on Finance, Appropriations, Ways and Means

Councilor Oscar A. Boling, Sr. is the longest serving public servant of the Sangguniang Panlungsod to date. A civil engineer by profession, he first entered politics when he decided to settle in his hometown after some years working as an overseas Filipino worker (OFW). He was elected as Municipal Councilor from 1988-1998, and he became a Municipal Mayor by virtue of succession for three months from March 28, 1998 to June 30, 1998.

As municipal councilor, he was elected as the Vice President of the Philippine Councilors League (PCL) – Pangasinan Chapter from 1995 to 1998. He returned to private life where he and his late wife Cecilia nurtured their six children, and were greatly rewarded as all of their children have become successful professionals. His eldest daughter is Presiding Judge of Metropolitan Trial Court Branch 29 in Manila.

With the support of constituents who has bestowed respect upon him, he was reelected for another three terms from 2007 to 2016. He returns to public service in 2019 where he served as Minority Floor Leader of the Sangguniang Panlungsod, and is now on his second term as City Councilor this 2022-2025.

He is very active as a public servant and is continuing his legacy—Boling pa rin!
COUNCILOR KELVIN THEUS ONTAR HUMILDE
Minority Floor Leader

Councilor Kelvin Theus O. Humilde is a neophyte City Councilor and is the current Minority Floor Leader of the Sangguniang Panlungsod. Despite being new to public service, he is known to be a quintessence of good leadership skills, a legacy he bears as public service runs in his blood. He is a graduate of the University of Luzon, where he took up Bachelor of Science in Business Administration, and the Pangasinan Merchant Marine Academy, where he graduated with a degree in Bachelor of Science in Marine Transportation. Before his entry into politics, he worked as a marketing assistant, as well as a district coordinator.

He is the son of the late Atty. Isagani G. Humilde and his family—including the late Board Member/Vice Mayor Teofilo "Bosyong" Humilde former Board Member/City Councilor Margielou Orange Humilde Verzosa—is known for enduring and committed service to the people.

Councilor Tonton is a young active citizen and he was hugely involved in volunteerism during the pandemic, like distribution of relief, face masks and face shields. He served as President of Junior Chamber International (JCI) – Hundred Islands, and has advocated for leadership development and health and wellness. Being a member of all the Standing Committees of the Sangguniang Panlungsod, he takes his role very seriously and ensures his presence in all sessions and hearings, performing his duties faithfully as representative of the minority.
LBP SALVADOR PAYAS DONA
Liga ng mga Barangay President
Committee on Barangay Affairs

Liga ng mga Barangay President Salvador P. Dona is the Punong Barangay of Brgy. Landoc since he was elected in 2013. Brgy. Landoc, a former sitio of Brgy. Inerangan, has made leaps in its growth since its initial declaration as an independent barangay in 1983. Through the leadership of PB Dona, the constituents of the barangay have enjoyed a more progressive community, from the development of its barangay hall, barangay multi-purpose gym and child care center.

For the term 2022-2025, PB Dona was elected as Liga President; hence his position as an ex-officio member of the Sangguniang Panlungsod. As Committee Chairperson of Barangay Affairs, he fosters the unity and cooperation among barangay councils, ensuring that community level actions are aligned with the City Government goals.

PB Dona is a retired police officer with the rank of Senior Police Officer 3 from the Philippine National Police. His work in local government is imbued with the discipline and dedication of a long-serving officer of peace and order and public safety.

Married to Caritas Buenafe Dona, the good barangay chairman has been an attentive and loving father to April Ann and Hershe Ann.

LOVERLY VINLUAN BERNABE
Panlungsod na Pederasyon ng Sangguniang Kabataan President
Committee on Youth, Sports Development and Information, Communication and Technology

President of the Sangguniang Kabataan Federation, Loverly V. Bernabe takes the lead role in all the SK initiatives in the City of Alaminos. She has actively promoted the welfare of the youth, encouraging the participation of young people in various commendable programs.

Love, as she is known to family and friends, hails from Brgy. Lucap. She is the youngest Chairperson-Elect of the barangay's Sangguniang Kabataan, and now that she represents the youth sector, she is even more determined to gather together the force of the youth to enact change and development.

She is a role model of dedication and determination—both in the public sphere and in her academic life. She is currently taking up Bachelor of Science in Civil Engineering, Major in Structural Engineering.

In such a short span of time, this humble, prudent, courageous, principled, fair and visionary young leader has shown she can achieve so many things with a big heart and bigger dreams. She is more known to be the "leader na may talino at puso."